Preferencias de cookies
Este sitio web utiliza cookies, que son necesarias para el funcionamiento técnico del sitio web y siempre están configuradas. Otras cookies, que aumentan la usabilidad de este sitio web, sirven para publicidad directa o simplifican la interacción con otros sitios web y redes sociales, solo se utilizarán con su consentimiento.
Estas cookies son necesarias para las funciones básicas de la tienda.
Almacenamiento en caché específico del cliente
Permitir todas las cookies
Rechazar todas las cookies
Reconocimiento del cliente
Estas cookies se utilizan para hacer que la experiencia de compra sea aún más atractiva, por ejemplo, para el reconocimiento del visitante.
Seguir el dispositivo que se está utilizando
TurboCAD LTE Pro V9, English
339,95 € *
349,00 € *
(2,59% Guardado)
Precios incl. IVA legal más gastos de envío
N.º artículo:

241821124

Número fabricante

4260042824712

Plazo:

Toda la vida

Idioma(s):

Inglés

Zona país:

En todo el mundo
Portador de datos a su software
TurboCAD LTE Pro V9 Works like AutoCAD LT®and more! Advanced Drafting & Detailing...
más
Información del producto "TurboCAD LTE Pro V9, English"
TurboCAD LTE Pro V9

Works like AutoCAD LT®and more!
Advanced Drafting & Detailing
Powerful Architectural Design
Compatible & Programmable

New!

Convert Roof Slabs

New!

Trim Roof Slab by plane

New!

Multi Landing Stairs By Polyline
Description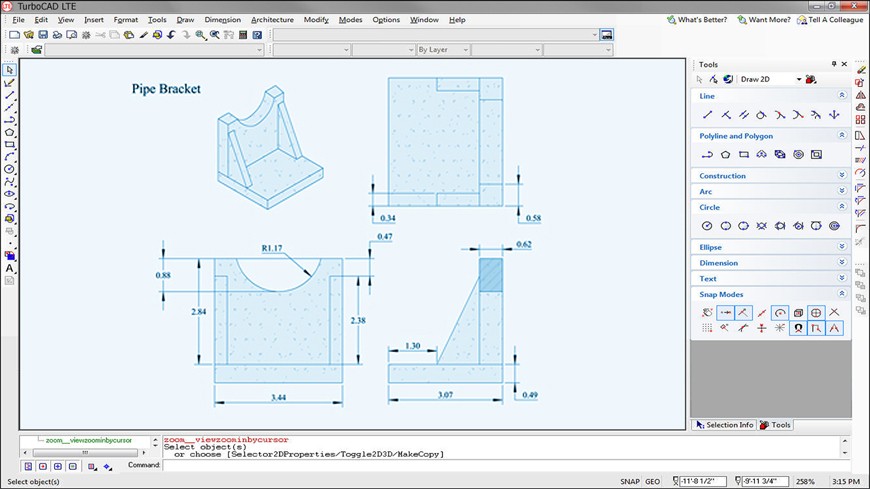 Professional 2.5D CAD – That Works Like AutoCAD LT
TurboCAD LTE Pro is a full-featured 2.5D CAD software solution with advanced features and extensive file support. TurboCAD LTE offers everything you look for in AutoCAD LT, plus additional advanced features that CAD professionals want, all at a fraction of the price.
Low Learning Curve
If you're already familiar with AutoCAD LT, the keystrokes, command line, and interface in TurboCAD LTE Pro make it easy to jump right in. There's no need to re-learn what you already know.
Enhanced Productivity
Load, process, and view even the largest CAD files using the 64-bit version of TurboCAD LTE Pro. Increase performance with the GPU-accelerated drawing engine used in conjunction with a variety of productivity tools.
Better Drafting and Detailing
Take designs further with TurboCAD LTE Pro's powerful drafting palette, page layout wizard, PDF underlay, support for Xrefs, parametric parts manager, constraints, entity marks, and dozens more tools and features you won't find in AutoCAD LT.
Architectural Tools
TurboCAD LTE Pro provides architectural features you will not find in AutoCAD LT, including IFC import/export, a range of parametric, ACA/ADT compatible architectural objects, a house wizard, architectural style manager, and more.
Programmable Through Ruby Scripting & SDK
TurboCAD LTE Pro is programmable through Ruby Scripting or the Software Development Kit, allowing for customisations of the software. Create routines, features, or vertical apps to make TurboCAD LTE better suited to your specific needs.
High Compatibility with Other CAD Formats
TurboCAD LTE Pro offers a superior workflow with AutoCAD and SketchUp files, U3D and 3D PDF support and dozens more popular CAD and graphic file formats.
Professional 2.5D Drafting and Detailing
TurboCAD LTE Pro is rich in fundamental drawing tools and drawing aids that speed design. More than an AutoCAD LT® work-alike; it's a professional 2.5D CAD program that provides all the features you look for in AutoCAD LT, plus many more advanced design tools CAD professionals want.
Low Learning Curve & Enhanced Productivity
TurboCAD LTE Pro is designed to minimise switching costs for AutoCAD LT users. Menus, tools, and icons are easily recognisable. Familiar keystrokes, command line, palette interfaces and an intelligent cursor have been incorporated. TurboCAD LTE Pro also offers exceptional compatibility with the latest .DWG and .DXF file filters allowing you to continue to profit from your existing AutoCAD drawings.
In addition to providing users with a familiar UI, TurboCAD LTE Pro offers a variety of features like a 64-bit version, GPU-accelerated drawing engine, and more, to enhance your productivity.
Affordable Innovations
TurboCAD LTE Pro goes beyond AutoCAD LT to provide more advanced drafting and detailing capabilities. The advanced drafting palette works with solid or surface models, turning 3D designs into associative 2D views and detailed sections to complete your working drawing documentation. The page layout wizard makes this process even easier with two modes to optimise the creation of 2D layouts from either an architectural or a mechanical model. TurboCAD LTE Pro even supports external references, or "Xrefs," making editing more efficient, and helping to keep drawings in synch.
Advanced Architectural Design
TurboCAD LTE Pro provides architectural features you won't find in AutoCAD LT, including dynamic dimensions, markers, geo-location, a house wizard, architectural style manager, IFC import/export for simple BIM, and a range of parametric, ACA/ADT compatible architectural objects
Programmable Through Ruby Scripting & SDK
Support for customisation through Ruby scripting and the Software Developers' Kit allows for all sorts of routines, features, or full-fledged vertical applications to be developed and added right to the user interface.
Highly Compatible with Other CAD Formats
TurboCAD LTE Pro supports over 30 industry-standard file formats. Open & save .DWG, .DXF, and .DWF formats from AutoCAD R14 to 2015. Enjoy superior workflow with Trimble MarkUp and SketchUp., now through version 2015. Import/Export files from PDF, 3D PDF, and Universal 3D (U3D) files as well as dozens more popular CAD and graphic file formats.
This latest release offers exciting new architectural tools, new slot tools, new point cloud tools, and much more. Plus enjoy the improved conceptual selector and new PRC support to export 3D content and share your work as a 3D PDF.
Architectural Design
NEW! Convert Roof Slabs
Now you can take a classic TurboCAD roof, and convert it (explode) the roof to a set of roof slabs. This makes it more convenient to create and edit custom roofs (clipped gable roof, dormer, etc...)
NEW! Trim Roof Slab by plane
This tool allows you to trim a Roof Slab by the plane of another object. The objects that can be used are: Other Roof Slabs, Standard Roofs, or Walls.
Select target flat plane for the trimming object
Select the side of the roof slab to be trimmed.
Support classic TurboCAD trim tool for Roof Slab (trim by polyline)
NEW! Multi Landing Stairs By Polyline
You can now create multi-landing stairs from a 2D polyline.
IMPROVED! Edit Roof Slope Rise/Run Support
The Edit Roof Slab Tool now includes an input field.
IMPROVED! IFC Object Support
The IFC file filter, commonly used for BIM operations, now supports the Import/Export of Beam object types and Column object types.
IMPROVED! House Wizard Tool
The house wizard, used to quickly layout a house plan, placing and sizing each room, drop in closets, passageways, a garage, and even decking, now allows you to name each room while in the tool so you don't have to do it after.

Mechanical Design
New Slots Tools
Three new slot tools for inventors, woodworking and furniture design. They include:
Slot
Circular Slot
Circular Slot By Center and Radius
Point Cloud
NEW! Point Cloud Support
TurboCAD LTE Pro now offers tools to interpret a point cloud, a set of data points in some coordinate system. In a three-dimensional coordinate system, these points are usually defined by X, Y, and Z coordinates, often intended to represent the external surface of an object.
New! Point Cloud Import/Export
Import or export a point cloud using .PCD and .XYZ formats
New! Point Cloud Triangulation
Ability to extract a Surface from point cloud data set
New! Subset Point Cloud
The ability to select a subset of an existing point cloud and create a separate entity.

General
NEW! ISO Circle/Grid
This new tool allows you to easily construct isometric circles.

User Interface
IMPROVED! Conceptual Selector
Drag reference point and rotation bars with CTRL
Scale handles on boundary boxed as in classic mode
New! Highlighting (Redsdk Only)
UI enhancement which highlights 3D objects and parts of 3D objects while using certain tools in Redsdk mode including imprinting, quick pull & 3D mirror copying.
New! Spaces
Manage all your spaces through the design director including model space, and all paper spaces so you can handle spaces more efficiently than the tab interface allows.

Interoperability Updates
New! PRC 3D PDF Support
TurboCAD LTE Pro now supports both .U3D and .PRC (Product Representation Compact) file export. This new filter option exports 3D content in PRC format.
Improved! 3D PDF Export
TurboCAD 3D PDF export now includes support of Redsdk materials
System Requirements
| | |
| --- | --- |
| Version | 9 |
| Platform | Windows Vista 64-bit, Windows 7 64-bit, Windows 8 64-bit, Windows 10 |
TurboCAD LTE and TurboCAD LTE Pro are delivered in a 64-bit version to take full advantage of your hardware's available computer memory to load, process, and render CAD files.
CPU Type
1 gigahertz (GHz) or faster 32-bit (x86) or 64-bit (x64) processor
System Requirements:
Microsoft Windows 10, Windows 8* 64-bit, Windows 7 (64-bit), Vista (64-bit)
4 GB RAM
Recommended:
Your experience with TurboCAD will be greatly enhanced with a newer generation, higher speed CPU, 4+ GB RAM, and larger display resolution and graphics support.
The optional GPU-accelerated Redsdk render mode requires a supported graphic processing unit (either a chip on the board, or on a video card). The latest video drivers are typically required. Newer boards with more power and VRAM generally provide greater performance.
¿Cómo y cuándo obtengo mi producto comprado?
Los productos digitales, las claves de productos y el acceso al centro de descargas estarán disponibles para usted por correo electrónico inmediatamente después de su compra, a menos que se haya solicitado un medio de datos.
¿Qué opciones de pago tengo disponibles?
PayPal, Amazon Pay, transferencia bancaria instantánea, tarjeta de crédito, Apple Pay, prepago, compra en factura
¿Qué garantías tengo en Blitzhandel24?
Blitzhandel24 es una tienda de marca en línea certificada por EHI, TrustedShops y CHIP. Blitzhandel24 también ofrece a sus clientes soporte permanente, así como soporte para el producto comprado. Si un producto no se ha utilizado / canjeado, nuestros clientes pueden beneficiarse de la garantía de devolución de dinero.
Enlaces de continuación a "TurboCAD LTE Pro V9, English"
¿Cómo surgen nuestros precios?
mehr
¿Cómo surgen nuestros precios?
El principio básico del comercio de software es el arte de la omisión.
Por paquete de cantidad
Dispensar las tarifas de entrega y almacenamiento, a través de la gestión virtual de mercancías.
Importaciones directas
Bono a largo plazo con distribuidores.
Bajo margen de beneficio, la principal prioridad en Blitzhandel24 es la apreciación y el crecimiento de la base de clientes.
Una administración central y esbelta.
Volumen de compras de proveedores / distribuidores autorizados.
Abandono de inversiones de marketing de alto precio, porque se hace más hincapié en los clientes habituales en el sentido de "clientes recomiendan clientes"
Nos damos cuenta de las ventajas de costos, que transmitimos a nuestros clientes a través de precios favorables.
¿Es esta la peor calidad?
Prometemos a nuestros clientes una excelente calidad. Los precios no afectan la calidad de ninguna manera, nuestros clientes reciben productos verificados y verificados. Además, tiene en Blitzhandel24 una cobertura de hasta € 20,000 a través de Trusted Shops y una tienda legalmente segura, con el sello de aprobación de EHI.